Brexit bust-up torpedoes Johnson's bid to showcase 'global Britain' at G7 | G7 | The Guardian
Boris Johnson was embroiled in an extraordinary public spat with EU leaders over Northern Ireland on Saturday as tensions over Brexit boiled over at the G7 summit in Cornwall.
After a series of tense bilateral meetings at which the French president, Emmanuel Macron, the German chancellor, Angela Merkel and the European commission president, Ursula von der Leyen, told their summit host the UK must implement the Brexit deal in full, an unrepentant Johnson said he had urged his EU colleagues to "get it into their heads" that the UK is "a single country".
And in a further explosive intervention, Johnson then reiterated the UK's threat to suspend the Northern Ireland protocol unilaterally, by invoking article 16 – a move that would almost certainly provoke trade retaliation from Brussels. He told Sky News the EU was constructing "all kinds of impediments" instead of applying the protocol "sensibly".
"I think we can sort it out, but it is up to our EU friends and partners to understand that we will do whatever it takes," he said. "If the protocol continues to be applied in this way, then we will obviously not hesitate to invoke article 16, as I have said before."
The row overshadowed a summit at which Johnson had hoped to showcase "global Britain" as a strong and independent force on the world stage after Brexit. Instead, former British ambassadors said his failure to honour a Brexit deal that he himself had helped negotiate had fatally undermined trust in his government and damaged its international reputation.
Nigel Sheinwald, a former UK ambassador to Washington and the EU, said: "The lesson of this week is that you can't have a global Britain which is genuinely respected and influential and impactful around the world if people doubt your basic bona fides."
Referring to a document signed at the summit by Johnson and US president Joe Biden, Sheinwald added: "There is no point in writing new Atlantic charters which depend on mutual trust, mutual confidence and the rule of law, when you are operating as chancers."
Johnson is hosting the summit at the Carbis Bay beach resort, where world leaders have been discussing critical issues including the climate crisis, recovery from the pandemic and how to contain China and Russia.
In their first face-to-face meeting since 2019, the G7 leaders, including Biden, welcomed the return of a multilateral approach to tackling global problems after the departure of Donald Trump from the White House.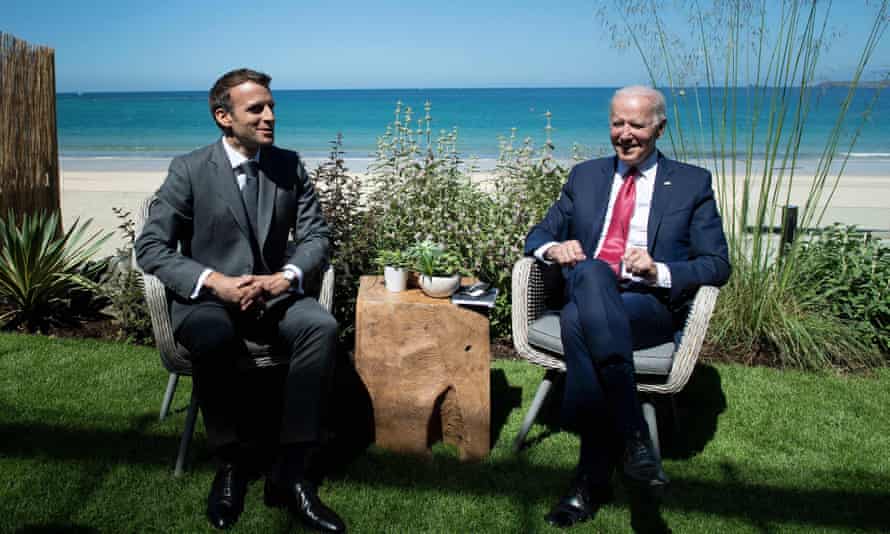 But while Brexit was not on the formal agenda, EU leaders took the opportunity to issue a concerted rebuke to Johnson in back-to-back meetings on Saturday morning, over what they regard as the UK's abject failure to abide by the Northern Ireland protocol.
Macron told Johnson that France was ready to work more closely with the UK, but only if the British people "honour their word to the Europeans and the framework defined by the Brexit agreements", according to the Elysée palace. In an indication of the level of tension, that account was disputed by Johnson's spokesman.
A similar message was pressed home by Merkel, who was pictured declining to bump elbows with Johnson as they posed for photographs at the start of their meeting. In a third meeting, Von der Leyen and European Council president Charles Michel told Johnson it was time to seek a way out of the standoff.
"All member states are aligned on this and this was clearly reiterated during the meeting," said an EU official. "Rhetoric needs to be toned down and we need to actively look for the solutions … in the protocol."
Lord Frost, the cabinet minister and EU negotiator whose pugnacious approach has dismayed his European counterpart, Maroš Šefčovič, attended all three meetings on Saturday.
Biden has also stressed the importance of protecting the Good Friday agreement, after it emerged that US diplomats had taken the unusual step of warning Frost the approach risked inflaming Northern Irish tensions.
The shadow foreign secretary Lisa Nandy said: "Months of denial and poor leadership mean the government hosts this crucial summit while stuck in a war of words with our closest partners on both sides of the Atlantic. This is an irresponsible diplomatic failure."
Article 16 of the protocol allows for one side to take unilateral action in the event of "serious economic, societal or environmental difficulties".
Foreign secretary Dominic Raab had earlier set a confrontational tone for the day ahead when he said the EU must avoid being "bloody-minded" about the issue of border checks.
Johnson is due to hold a press conference on Sunday as the summit draws to a close, but No 10 fears EU leaders could use their own statements to hammer home their Brexit message.
An Opinium poll for the Observer shows 41% think the UK has become less influential over the past 10 years, with just 19% believing its influence has risen. Some 31% believe there has been no change. More specifically, 35% think Brexit has given the UK less influence, compared to 26% who think it has given the UK more.
Another former UK ambassador to Washington, Kim Darroch, said the Brexit row had demonstrated the need for the UK to keep its word if it wanted to win respect. "An international agreement is not an a la carte menu from which you can choose what you like and ignore the rest," Darroch said. "Once you sign off on it you have to implement it properly and fully. 'Global Britain' is not going to work unless we are seen to live up to our commitments."
Shane Warne: Countries Should Stop Picking Players Who Choose IPL Over International Duty
Shane Warne and Michael Vaughan came down heavily on cricketers who pick playing in the IPL over fulfilling international duties, with the Australian even suggesting that the ones who do so should not be picked for international matches.
The subject has been fervently discussed in recent times, with England's IPL players allowed to miss their two-Test series against New Zealand. England lost 1-0, their first home series defeat since 2014, with the rest and rotation policy used during their tour of the subcontinent also coming in for criticism.
A few weeks after as many as seven Australian players pulled out of the upcoming tours of West Indies and Bangladesh, Warne and Vaughan stated that cricket boards need to be firmer with players who opt out of playing for their country to play in franchise T20 tournaments.
The seven players who are missing the tour — Pat Cummins, Kane Richardson, David Warner, Glenn Maxwell, Jhye Richardson, Daniel Sams, and Marcus Stoinis — were all part of the Indian Premier League. Following the tournament's suspension, the players flew to the Maldives following the closure of Australia's borders for travellers from India and were only released from hotel quarantine late last month.
Warner, Stoinis, and Maxwell have pulled out of the first edition of The Hundred as well.
"Look, I know it's tough with the bubble and quarantine throughout the year, but the country has to take priority over franchise cricket. That's the simple answer," Warne said on the Road to the Ashes podcast.
Vaughan, who was a guest along with Warne, stated that international cricket was following the footsteps of the English Premier League, with players picking and choosing their international appearances.
"The stage has been set in the last few years, where the boards have been allowing players to pick and choose," Vaughan said. "Recently, England allowed the players to stay in the IPL rather than play the Test match against New Zealand at Lord's though the games were in the Future Tours Programme. We have to set a precedent here.
"Football in the UK is basically the Premier League, and then after every two years, they want to play for their country, be it in the Euros or the World Cup. Cricket is going down a similar path. They have to be very careful. The boards and national teams have to be stronger with the players. If they want international cricket in 20 years to be the pinnacle, they have to be strong with the players. Franchises have a huge amount of money but we have to be careful that international cricket has to be at number one. Or else cricket will be like the Premier League, where players pick and choose, and pull out of games and just play the tournaments."
Warne is a mentor and ambassador at Rajasthan Royals, who have benefitted from England's flexibility in allowing their players to play in the IPL, boasting the biggest English contingent of any side. However, his role at the team didn't affect his viewpoint.
"It's simple – I don't hold a grudge against the players for the money that they have," he said. "It's fantastic. If they want the money, take the money. But if they want to play cricket for their country and choose the IPL over their country, well then, maybe they have to be punished — not punished, that's the wrong word, maybe they have to choose because it's not worth picking them.
"Because players will want to rest, and they will miss Test matches and miss playing for the country for money. It's not a grudge – it's hard to let go of three million bucks and play for a month and be away from your family for six weeks. It's very easy to make that decision. But if you view yourself as a cricketer and [want to] test yourself against the best, there are only internationals to do it. If you want to play IPL, that's fine, but know someone might replace you."
Subscribe to the Wisden Cricket YouTube channel for post-match awards, player interviews, analysis and much more.
Canada must reveal 'undiscovered truths' of residential schools to heal | Global development | The Guardian
Canada urgently needs an independent investigation into the deaths of thousands of Indigenous children at church-run residential schools if the country ever hopes to finally confront the horrors of its colonial past, the man who led the country's Truth and Reconciliation Commission has told the Guardian.
Murray Sinclair, a former senator and one of the country's first Indigenous judges, warned that the "undiscovered truths" of the schools are probably far more devastating than many Canadians realize – including the deliberate killing of children by school staff and the likelihood that such crimes were covered up.
Sinclair called for a powerful investigative body, free of government interference, and with the power to subpoena witnesses.
"We need to know who died, we need to know how they died, we need to know who was responsible for their deaths or for their care at the time that they died," said Sinclair, a member of the Peguis First Nation. "We need to know why the families weren't informed. And we need to know where the children are buried."
Canada has been rocked by the discovery of nearly a thousand unmarked graves at the sites of church-run residential schools which Indigenous children were made to attend as part of a campaign of forced assimilation.
On Thursday, the Cowessess First Nation said that the remains of 751 people had been found at the site of a former residential school in Saskatchewan – just weeks after the Tk'emlúps te Secwépemc nation found 215 unmarked graves in British Columbia.
Justin Trudeau described the graves as "a shameful reminder" of the systemic racism that Indigenous peoples still endure, adding: "Together, we must acknowledge this truth, learn from our past, and walk the shared path of reconciliation, so we can build a better future."
But Sinclair warned that reconciliation requires a sustained effort to change by ordinary Canadians and powerful institutions of state — an effort that has so far remained elusive.
"The government, our social institutions, and even our population acknowledge what was done to Indigenous people was wrong. There have been several apologies and a promise of things will change. But there's been no change," he said. "So long as any change is only given reluctantly, it means there remains a willingness, ability – and even desire – to go back to the way things were."
Sinclair led a historic Truth and Reconciliation Commission which in 2015 concluded that the residential school system amounted to cultural genocide.
Over more than a century, at least 150,000 Indigenous children were taken from their families and forced to attend the schools, many of which were run by the Catholic church.
Children were forcibly converted to Christianity, given new names and were prohibited from speaking their native languages. The last residential school closed in the 1990s.
Painful survivor testimony to the commission made it clear that sexual, emotional and physical abuse were rife. The final report estimated that more than 4,100 children died from disease, neglect and suicide, although Sinclair has said he believes the true figure could be as high as 15,000.
But the commission was prevented from investigating allegations of criminality and efforts to obtain key church and government records were frustrated.
"We've heard stories from survivors who witnessed children being put to death, particularly infants born in the schools who had been fathered by a priest. Many survivors told us that they witnessed those children, those infants, being either buried alive or killed – and sometimes being thrown into furnaces," said Sinclair, who oversaw thousands of hours of testimony. "Those stories need to be checked out."
Testimony from survivors and the commission's final report made it clear that there were undocumented burial sites across the country. But the recent discoveries have nonetheless shocked many Canadians and prompted calls for a new investigation – something the government has so far resisted.
The schools were funded by the federal government, but often operated by religious institutions, and there have been growing calls for formal apology from the Catholic church – and for the release of any related records.
Pope Francis said he was pained by the discovery of the graves last month and called for the rights and cultures of Indigenous peoples to be respected, but his refusal to give a direct apology has disappointed many.
On Friday, the Catholic Missionary Oblates of Mary Immaculate, which operated 48 schools, including the Marieval Indian residential school at Cowessess First Nation in Saskatchewan and the Kamloops Indian residential school, said it would release all documents in its possession.
"We remain deeply sorry for our involvement in residential schools and the harms they brought to Indigenous peoples and communities," the order said a statement. "We further acknowledge that delays can cause ongoing distrust, distress, and trauma to Indigenous peoples."
Sinclair said that church and government officials had repeatedly claimed the records have been destroyed or lost. Even when the church handed over documents to the commission, key names and locations were redacted, rendering the documents "useless" for research purposes, he said.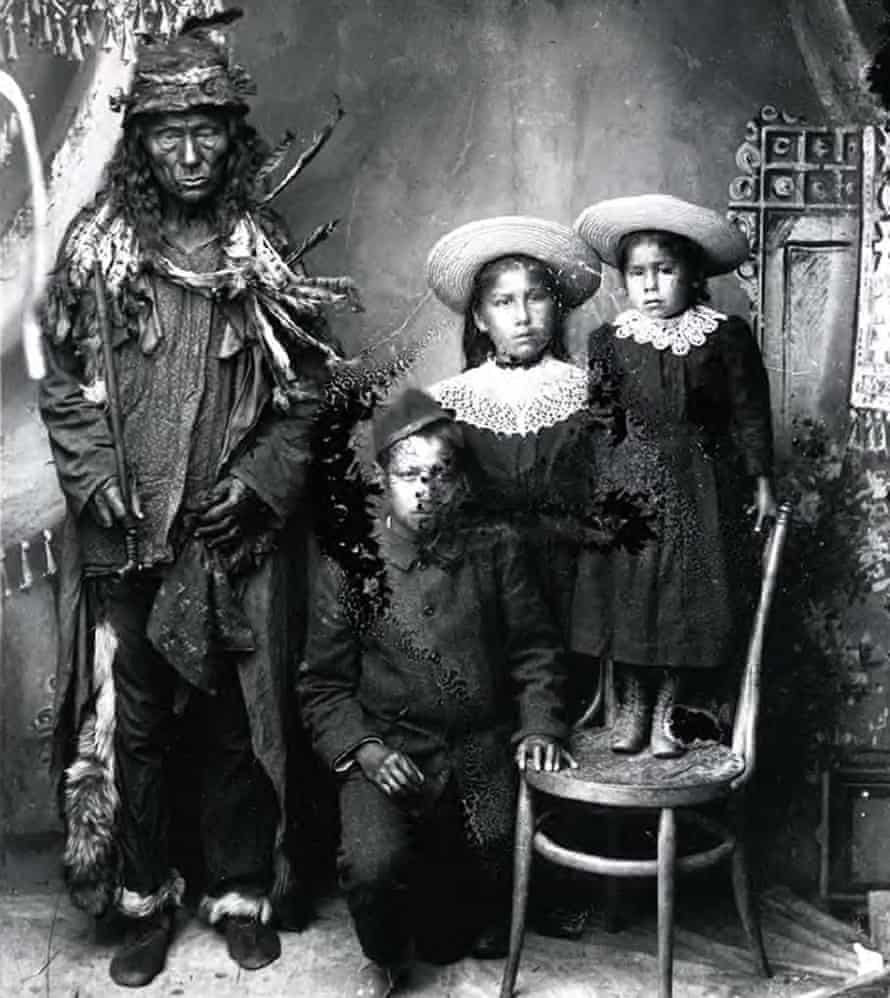 "Quite frankly, we don't trust their word," said Sinclair before the order's announcement on Friday.
"We want there to be an independent investigation to actually go into their archives and see what can be found. And I think that we will be astonished at what their records reveal to us."
And while some important records have probably been destroyed, others never existed in the first place. "We know that children who died at the hands of one of the staff – particularly the nuns, or the priests – were simply not recorded."
At the commission, school survivors described how the trauma they suffered was handed down to the next generations – a reality magnified by systematic inequities that persist across the country.
Dozens of First Nations do not have access to drinking water, the government is fighting a human rights tribunal order to compensate Indigenous children who suffered in foster care and a federal minister has admitted racism against Indigenous peoples is rampant within the healthcare system. Indigenous people are overrepresented in federal prisons and Indigenous women are killed at a rate far higher than other groups.
Such realities are the result of a sustained campaign to create and sustain racial inequity, said Sinclair.
"It took constant effort to maintain that relationship of Indigenous inferiority and white superiority," he said. "To reverse that, it's going to take generations of concerted effort to do the opposite."
Canada tops world in vaccinated population as new COVID-19 cases fall below 1,000 – National | Globalnews.ca
Just over two months after posting a record of over 9,000 COVID-19 cases in a single day, Canada's daily case count has shrunk by 90 per cent.
The achievement comes as the country leads the world in the share of national populations vaccinated against the novel coronavirus, with close to 65 per cent of Canadians now having received at least one dose.
Story continues below advertisement
Monday's 945 new infections marked the first time daily cases were under 1,000 since Sept. 20 of last year.
Updated data from the weekend also showed cases remained low on Saturday and Sunday, with provinces and territories reporting 1,384 and 1,238 new cases, respectively.
The seven-day average for new cases now sits at 1,305, according to a Global News analysis of nationwide data — the lowest average since Sept. 27, 2020.
Cases have continued to steadily drop from the peak of the third wave in April, when over 8,700 new infections were being reported daily on average.
Although slightly fewer tests are being performed daily in many provinces and territories compared to the spring, a Global News analysis found daily testing rates are comparable to those seen in the early winter — suggesting fewer tests are being returned positive.
Story continues below advertisement
That's also been true week-to-week between May and June, according to Canada's chief medical health officer. In a statement Monday, Dr. Theresa Tam said 2.8 per cent of all tests performed between May 30 and June 5 were positive, compared to 3.8 per cent of roughly the same number of tests completed the week prior.
Tam said the latest data prior to the weekend shows a 21-per cent decline in both hospitalizations and intensive care patients over the past week, along with a seven per cent drop in the average number of deaths reported daily.
Just over 1,300 Canadians are in hospital with COVID-19 symptoms as of Monday, which saw 13 more deaths reported across the country.
The plummeting numbers come as Canada's vaccination rate remains on an upswing. More than 400,000 doses are being administered daily, according to the COVID-19 Vaccine Tracker — a rate of 1.11 doses for every 100 Canadians.
The share of Canada's population with at least one dose in their arms is higher than any other country, according to Our World in Data.
That's despite only 12.9 per cent of the population having received both required doses, which pales in comparison to many other countries including the United States, China and much of Europe.
Story continues below advertisement
In her statement, Tam urged Canadians to get that second dose when eligible, reminding that two doses offers better protection against more transmissible variants of the coronavirus like the fast-spreading Delta variant "and may make immunity last longer."
"However, regardless of our vaccination status while COVID-19 is still circulating, it is important to remain vigilant, continue following local public health advice, and consistently maintain individual practices that keep us and our families safer," she added.
Numbers plummet across country
Many provinces reported daily case numbers not seen since last fall, as officials continued to weigh further steps in their reopening plans.
Ontario — which reported 447 new infections and four more deaths — said Monday it will accelerate return-to-play plans for professional and amateur sports leagues, with games to return by August.
Story continues below advertisement
The province also said it will reopen its borders with Quebec and Manitoba on Wednesday.
Quebec on Monday lowered its pandemic alert for many regions, including Montreal and Quebec City, allowing limited indoor gatherings to resume and crowd limits to increase at funerals, weddings and religious services. Another 123 new cases and one more death were also reported.

1:55


COVID-19 vaccine campaign slowdown coming in Canada, experts warn



Atlantic Canada saw a combined 13 new cases — eight in Nova Scotia, four in Newfoundland and Labrador, and one in New Brunswick — while Nova Scotia announced its 90th death since the pandemic began.
The region is awaiting vaccination targets to be reached in New Brunswick, where travel restrictions will be lifted for other Atlantic provinces once 75 per cent of residents have received at least one dose. As of Monday, the province is 1,345 people short of that goal.
Story continues below advertisement
Manitoba reported 124 new cases and two more deaths Monday, but the strain on the province's health-care system remains high.
Although the number of hospitalizations has dropped below 200 for the first time since mid-May, officials say they are still waiting for capacity to ease before lifting any more restrictions.
Saskatchewan, which reported 55 new cases and one more death, is also just shy of its vaccination benchmark of 70 per cent. The government says more restrictions will be lifted three weeks after that goal is met.
In Alberta, Premier Jason Kenney announced a $1-million lottery to encourage more people in that province to get vaccinated. He said 48,000 more doses need to be administered before nearly all health rules can be lifted following a two-week waiting period.
The province reported 115 new cases and one more death on Monday.
Health restrictions will be eased on indoor gatherings, group activities and travel within British Columbia on Tuesday as COVID-19 immunization rates rise and case counts decline, Premier John Horgan said Monday.
Officials said a total of 277 new cases and four deaths were confirmed since Friday, including just 68 new cases on Monday.
Story continues below advertisement
None of the northern territories reported any new infections of deaths on Monday.
To date, Canada has seen a total of 1,403,285 confirmed cases of COVID-19. Of those, 25,944 people have died and 1,361,387 have recovered.
Globally, the novel coronavirus pandemic has infected at least 176.1 million people and killed over 3.8 million, according to data compiled by Johns Hopkins University.
© 2021 Global News, a division of Corus Entertainment Inc.